John Filo's iconic picture of 14-year-old Mary Ann Vecchio screaming while kneeling over the dead body of 20-year-old Jeffrey Miller, one of the four victims of the Kent State shootings in 1970, won him the Pulitzer Prize in 1971.
The shooting by members of the Ohio National Guard occurred at Kent State University in Kent, Ohio on May 4, 1970. The massacre, which resulted in the deaths of four students and wounding of nine others, changed John's life, and ours, forever.
At the time, Filo was both a photojournalism student at Kent State University, and staffer of the Valley Daily News, which became the Valley News Dispatch.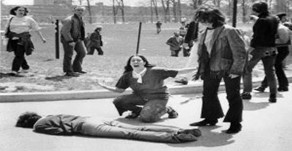 Below is Filo's recollection of what happened:
The bullets were supposed to be blanks. When I put the camera back to my eye, I noticed a particular guardsman pointing at me. I said, "I'll get a picture of this," and his rifle went off. And almost simultaneously, as his rifle went off, a halo of dust came off a sculpture next to me, and the bullet lodged in a tree.
I dropped my camera in the realization that it was live ammunition. I don't know what gave me the combination of innocence and stupidity … I started to flee–run down the hill and stopped myself. "Where are you going?" I said to myself, "This is why you are here!"
And I started to take pictures again. … I knew I was running out of film. I could see the emotion welling up inside of her. She began to sob. And it culminated in her saying an exclamation. I can't remember what she said exactly … something like, "Oh, my God!"
After winning the Pulitzer Prize, Filo continued his career in photojournalism finding work at the Associated Press, the Philadelphia Inquirer, and as a picture editor at the Baltimore Evening Sun. John eventually rose to a picture editing job at the weekly news magazine Newsweek, and later as head of photography for CBS.
Be sure to join Mick and Mook on May 4th for an interesting and sad look back at this historic event.
###