With the Super Bowl behind us, the game segued me to memories of my old pal, Sid.
The first time he saw me he barked, "Get out. You get the hell out."
It was the late 1970's and Sidney Brooks was throwing me out of the San Diego Chargers locker room. I deserved it, but one must admit that it was a hell of a way to strike up a lasting friendship.
Sid was the San Diego Chargers' equipment manager and a decorated 20-year retired Air Force veteran.
An unwritten NFL rule stated that in order to gain entrance to any locker room, you must get the permission of the Equipment Manager. I hadn't.
The Chargers knew what they were doing when they tagged Sid to become the NFL's first African American equipment manager. Sid was a ground breaker and one of a kind. Everyone called him 'The Doctor.' Why he was called The Doctor, or Doc, no one really knows. Sid probably bestowed the title on himself.
He told me to call him "The Doctor," so Doctor it was.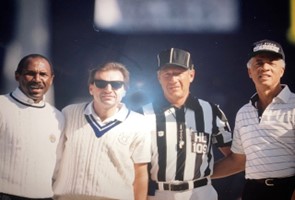 (HOF'er Charlie Joiner, FP, NFL Ref, Doctor Sid Brooks)
I was a young PR guy for a local San Diego ad agency, The Phillips Organisation. One of my clients was PONY, a big New York-based athletic shoe company. PONY was locked in a titanic battle for shoe supremacy with the likes of Nike, Adidas, New Balance, Converse, Reebok, and Puma. PONY had already signed many major stars of the era: Heavyweight boxing Champion Larry Holmes, Baseball Superstars Reggie Jackson and Rod Carew, tennis great Tracey Austin, and football greats Earl Campbell and Ken Stabler. PONY wanted me to sign as many San Diego Chargers as possible to shoe contracts.
After I made my mea culpa to Sid, we had a friendly but slightly tenuous relationship. After all, Sid didn't really know me, and Sid was VERY protective of his players. That all changed after Chicago in 1979.
Chicago was the home of the annual National Sporting Goods Association Show (NSGA), the biggest sporting goods show of the year. Every major sporting goods company in the world was in attendance.
As fate would have it, I was in the toilet at the show in McCormick Place when I overheard two guys talking at the urinal. I knew they were Nike reps because they were talking about the breakfast one of the reps had that morning with Sid Brooks and boasting, "we own the Chargers now."
My eyes lit up. I couldn't wait to tell Sid.
As you probably figured by now, no one has ever owned Sidney Brooks.
"Own ME?" Sid said. "We'll see about that."
Within a few years, with Sid's assistance, PONY had signed over half the locker room, including future Hall of Famer Charlie Joiner, Gary "Big Hands Johnson" – special team player of the year, Hank "the Howitzer" Bauer, James Brooks, Woody Lowe, Linden King, Wes Chandler, and so, so many more.

I always made the Doctor look good. All the orders were delivered on time, including the players' personal items. Doc liked that.
Doc Brooks soon became one of my closest friends, so much so that the friendship endured even after I changed careers from a San Diego PR guy to a L.A.-based television producer.
As a producer, we hired Sid's daughter, Alison, a budding actress, for "atmosphere" on the sitcom Head of The Class, followed quickly by Sid making appearances on the same Head of the Class and then Something Wilder starring Gene Wilder. He also memorably appeared in the film Babe Ruth starring Stephen Lang as "The Babe." In one memorable scene, Babe calls him by name.
Still, Sid never made it to a Superbowl. The Chargers having lost twice in the AFC championship game.
After twenty years with the Chargers, and after yet another brief retirement, Sid signed on as equipment manager with the USC Trojans. He was reunited with Heisman Trophy winner and former Chargers running back Mike Garrett. Garrett, now the Director of Athletics, was responsible for Sid's hiring. Perhaps appropriately, USC was to become a NCAA Football power during Sid's reign.
Sid had finally retired for good and was living the good life in Arizona with his wife Gerri when he slipped in the sauna, hit his head, and tragically passed away.
A lifetime of great memories passed with Sid, but he & Gerru did pen his biography, so all is not lost.
Pick up a copy of "Sid Brooks' Tales from the San Diego Chargers Locker Room" and remember as I always will.
Sid "The Doctor" Brooks…. One of a kind.
###