Make no mistake, I'm a firm believer of capitalism. God bless you for making as much money as you can, if it's done legally – and not like a politician (but that's a blog for another time).
However, over the years, I've watched professional sports team-owners, unions, and athletes get so consumed with money that it has taken over the dialog in sports. Fans now talk more about how much money an athlete makes rather than his/her physical abilities, competitiveness, and their desire to build a winning culture with teammates.
As a young boy, I don't recall ever knowing how much money an athlete made – never mind discussing it. Thinking back, the first time I remember talking about a player's salary was in 1965, when Celtics' center Bill Russell demanded to make more than his chief rival. Wilt Chamberlain. At the time, Wilt had won zero NBA Championships and Russell had already won eight of his final total of eleven championships. Chamberlain had just signed a new contract for $100,000, while Russell was making $75,000. The Celtics responded by giving Bill a new contract for $100,001.
And while $100,000 was certainly a great deal of money in 1965, Dollar Times values that amount in today's economy at about $900,000. So how did we get to $40M+ annual contracts today?
Also, even after Chamberlain and Russell broke the $100,000 salary threshold in the NBA, there was still little talk about salaries. Maybe because the big contracts were only given out to the very elite players who were deserving. And while it was certainly high income, it wasn't overly absurd like today.
And as if these salaries aren't bad enough, turn on sports talk-radio…it's all the talking-heads and their callers discuss. It's sickening. And, yes, here I am writing about it!
So, here's my question…in what other private industry are employee wages published and openly discussed? I can't think of one off the top of my head. And why are they made public? The argument is that the publicity and knowledge of salaries comes in handy for athletes and agents during contract negotiations. It's difficult for team management to negotiate with players who have proof of what fellow teammates make. It's a union strategy, which has certainly paid off for them. But at who's expense?
I hear many fans saying, "I don't care. It's not my money." But think again. What do you think the cost is for a family of four at Fenway Park, home of the highest ticket prices in MLB?
Below is a breakdown of prices for a family of four to attend a Red Sox game. How does $600 sound? This is why I watch games on TV…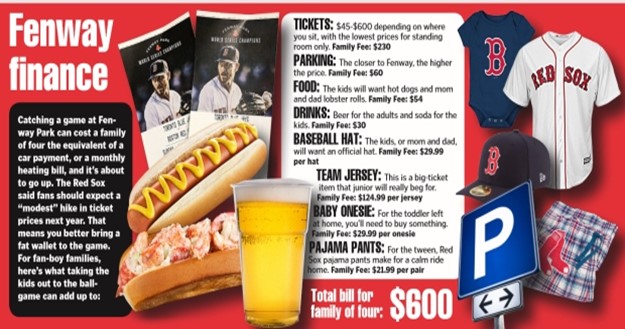 So, don't let me ever hear you say, "It's not my money" ever again. You certainly pay 'some' for these grown men to make millions playing a kids' game.
I suggest that you save your money for gas and groceries!
###