Entrepreneur and former left-handed minor league pitcher Rob "Nellie" Nelson, the inventor of Big League Chew, discusses his bubble gum company's history and success in the marketplace with Mick and Mook in the upcoming episode of 'A Mick A Mook and A Mic' slated for August 18th.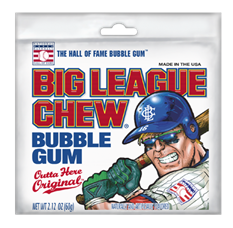 Starting from humble beginnings in the Portland Mavericks bullpen (an independent Class A minor league baseball team) in 1977, Nelson developed Big League Chew into the preferred chewing gum for all ages. The popular bubble gum is currently an official sponsor of the National Baseball Hall of Fame and Museum in Cooperstown, NY.
One of Rob's teammates in 1977 was 38-year-old Jim Bouton, a former member of the New York Yankees and author of the wildly popular book Ball Four.  With product in hand, the pair went to all the major gum companies, using Bouton's clout to get in the door. Finally, Amurol Products, a subsidiary of the Wm. Wrigley Jr. Company, agreed to manufacture the gum and introduced Big League Chew in 1980.
Currently, Big League Chew is owned by The Ford Gum Company based in Akron, NY.
Along with now being the company's #1 pitchman, Nelson spends his days working on small projects and inventions, as well as devoting his time to his wife, Sarah, and children Paige, Charlie and Jane.
Be sure to join Mick and Mook on August 18th for this interesting episode with Rob Nelson – an entrepreneur with a great story to tell.
###